capital
(redirected from with a capital)
Also found in:
Dictionary
,
Thesaurus
,
Medical
,
Legal
,
Idioms
,
Encyclopedia
.
Capital
Money
that one has
invested
. For example, one uses capital when building a factory to make a new product. Likewise, one uses capital when one buys a single
share
of a
stock
. Free flow of capital into investments is thought to be a major component of
economic growth
. Generally speaking, businesses can only expand when they are able to raise capital from
investors
or
borrow
it from a
bank
or through a
bond
issue
. See also:
Capitalization
,
Capitalism
.
Farlex Financial Dictionary. © 2012 Farlex, Inc. All Rights Reserved
Capital.
Capital is money that is used to generate income or make an investment. For example, the money you use to buy shares of a mutual fund is capital that you're investing in the fund.
Companies raise capital from investors by selling stocks and bonds and use the money to expand, make acquisitions, or otherwise build the business.
The term capital markets refers to the physical and electronic environments where this capital is raised, either through public offerings or private placements.
capital
the funds invested in a BUSINESS in order to acquire the ASSETS which the business needs to trade. Capital can consist of SHARE CAPITAL subscribed by SHAREHOLDERS or LOAN CAPITAL provided by lenders.
GOODS such as plant, machinery and equipment which are used to produce other goods and services. See CAPITAL STOCK, INVESTMENT.
Collins Dictionary of Business, 3rd ed. © 2002, 2005 C Pass, B Lowes, A Pendleton, L Chadwick, D O'Reilly and M Afferson
capital
the contribution to productive activity made by INVESTMENT in physical capital (for example, factories, offices, machinery, tools) and in HUMAN CAPITAL (for example, general education, vocational training). Capital is one of the three main FACTORS OF PRODUCTION, the other two being LABOUR and NATURAL RESOURCES. Physical (and human) capital make a significant contribution towards ECONOMIC GROWTH. See CAPITAL FORMATION, CAPITAL STOCK, CAPITAL WIDENING, CAPITAL DEEPENING, GROSS FIXED CAPITAL FORMATION, CAPITAL ACCUMULATION.

Collins Dictionary of Economics, 4th ed. © C. Pass, B. Lowes, L. Davies 2005
capital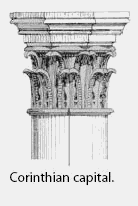 (1) In architecture, the top part of a column.(2) In finance: (a) All the accumulated goods, possessions, and assets used for the production of income and wealth. (b) The amount invested in business.

The Complete Real Estate Encyclopedia by Denise L. Evans, JD & O. William Evans, JD. Copyright © 2007 by The McGraw-Hill Companies, Inc.