land
(redirected from landowner)
Also found in:
Dictionary
,
Thesaurus
,
Legal
,
Idioms
,
Encyclopedia
,
Wikipedia
.
Land
Real estate or property. It is the primary (and indeed one of the only)
assets
whose
values
do not
depreciate
over time. Depending on the particular
title
, ownership of land may include
mineral rights
to any geophysical aspects occurring thereon. Ownership of land does not automatically include the right to develop it, depending on local regulations. While
supply
of land does not vary,
demand
may change greatly depending on its particular features, number of people in the area, and cultural differences regarding land ownership. It is an attractive form of
collateral
because it cannot be stolen or destroyed. See also: Plot,
zoning law
.
Farlex Financial Dictionary. © 2012 Farlex, Inc. All Rights Reserved
land
A firm's dollar investment in real estate.
Wall Street Words: An A to Z Guide to Investment Terms for Today's Investor by David L. Scott. Copyright © 2003 by Houghton Mifflin Company. Published by Houghton Mifflin Company. All rights reserved. All rights reserved.
land
see NATURAL RESOURCES.

Collins Dictionary of Economics, 4th ed. © C. Pass, B. Lowes, L. Davies 2005
land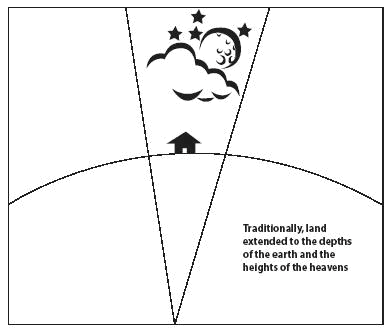 In the law,the surface of the earth,descending down in a cone shape to the center of the world and upward to the heavens, along with all natural things thereon, such as minerals, water, vegetation, and rights to the air.This is less than the concept of real property,which includes land but also all rights in and to land or its use, and all artificial things attached to the land.
The Complete Real Estate Encyclopedia by Denise L. Evans, JD & O. William Evans, JD. Copyright © 2007 by The McGraw-Hill Companies, Inc.