abut
(redirected from abutter)
Also found in:
Dictionary
,
Thesaurus
,
Legal
,
Idioms
,
Encyclopedia
,
Wikipedia
.
Abut
To touch or to lie next to. The term is used in
property
to determine the obligations of a homeowner or the municipality.
Farlex Financial Dictionary. © 2012 Farlex, Inc. All Rights Reserved
abut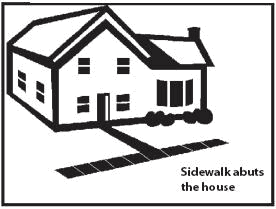 Next to, touching, contiguous. Typically arises in the context of whether property owners have a duty to clean snow, ice, and debris from

the sidewalks abutting their property.

The Complete Real Estate Encyclopedia by Denise L. Evans, JD & O. William Evans, JD. Copyright © 2007 by The McGraw-Hill Companies, Inc.