easement
(redirected from Restrictive easement)
Also found in:
Dictionary
,
Thesaurus
,
Legal
,
Encyclopedia
.
easement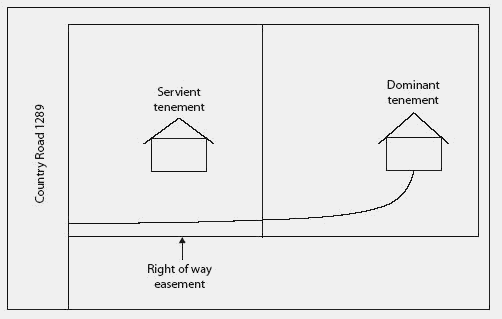 A nonpossessory right to use another's property.Easements may be created by express words of grant in a written document, by prescription (unrestricted usage over time resulting in property rights),or by necessity,as when the law will force the grant of ingress and egress rights for landlocked property.

• Easements are said to be appurtenant or in gross. If appurtenant, then the easement bene fits one property and burdens another one. The property being benefited is called the dominant estate, dominant tenement, or dominant hereditament—they all mean much the same thing. The one with the burden is called the servient estate, tenement, or hereditament.

• Easements appurtenant stay with the land, no matter who owns it or how many times the land changes hands. An example is a right-of-way easement.

• If the easement is in gross, then it is personal to someone and does not benefit a particular property. A common example is a power line easement. The easement stays in effect no matter who owns the land burdened by the easement, but typically expires with the death of the owner of the easement.

• An easement may not unduly burden the property.

Example: A right-of-way easement may have been originally granted so one farmer could cross the property of another to reach another field. Later, one farm is sold to someone who plans to build a 250-home subdivision and use the right-of-way as the construction entrance. Courts will not allow this.

The Complete Real Estate Encyclopedia by Denise L. Evans, JD & O. William Evans, JD. Copyright © 2007 by The McGraw-Hill Companies, Inc.