lateral and subjacent support
Also found in:
Wikipedia
.
lateral and subjacent support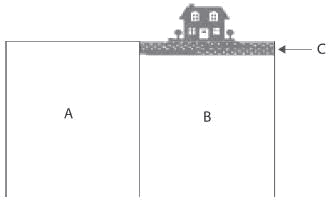 All property is entitled to support from the sides (lateral support) and from underneath (subjacent support). In the diagram,A owns the surface of the land and all the mineral rights underneath. C owns the surface rights only,because the mineral rights were sold to B, many years ago. A may not dig a strip mine and slice down the property line many feet,because B's and C's land would crumble at the edges and fall into the strip mine.A has a duty of lateral support to B and to C. By the same token, B cannot carelessly dig deep mines and cause the surface to cave in, because B owes the duty of subjacent support to C.
The Complete Real Estate Encyclopedia by Denise L. Evans, JD & O. William Evans, JD. Copyright © 2007 by The McGraw-Hill Companies, Inc.