access right
(redirected from Access rights)
Also found in:
Dictionary
,
Thesaurus
,
Medical
,
Legal
,
Encyclopedia
,
Wikipedia
.
Access Right
The authority a user of a computer program or a network has to access that program or network. One using a program or network without access rights is a hacker.
Farlex Financial Dictionary. © 2012 Farlex, Inc. All Rights Reserved
access right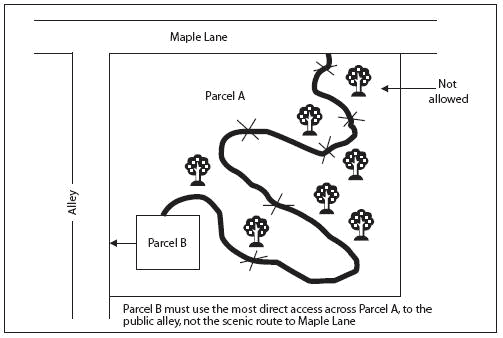 The right of owners to get to or from their property. Legally, no land may be landlocked.Therefore, if a parcel is cut off from all public roads and there are no easements for ingress and egress,then the owner may bring suit and have a court declare an easement of necessity over the land of another. (This is one of the rare times when private individuals are able to bring condemnation actions and force another to give them property rights.)

Example: Parcel B is landlocked, but the owner is entitled to access rights to public roads
and may force the owner of parcel A to provide an ingress and egress easement. The easement
must be via the most direct route to the nearest public road, without being unduly burdensome
on parcel A. The owner of parcel B may not force the owner of parcel A to provide a scenic route.

The Complete Real Estate Encyclopedia by Denise L. Evans, JD & O. William Evans, JD. Copyright © 2007 by The McGraw-Hill Companies, Inc.