meridian
(redirected from meridional)
Also found in:
Dictionary
,
Thesaurus
,
Medical
,
Legal
,
Encyclopedia
,
Wikipedia
.
Related to meridional:
meridional plane
,
Meridional amblyopia
meridian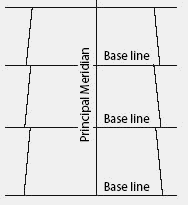 One of the imaginary lines running north and south and used by surveyors for reference in locating and describing land. Each area has a principal meridian as the reference for all other lines.Because of the curvature of the earth,though,meridian lines cannot remain an equal distance apart, because they converge as they approach the North Pole.As a result,correcting lines, called guide lines,are run at 24-mile intervals.The correcting lines break and then re-form at each base line.See also public land survey system.